CEO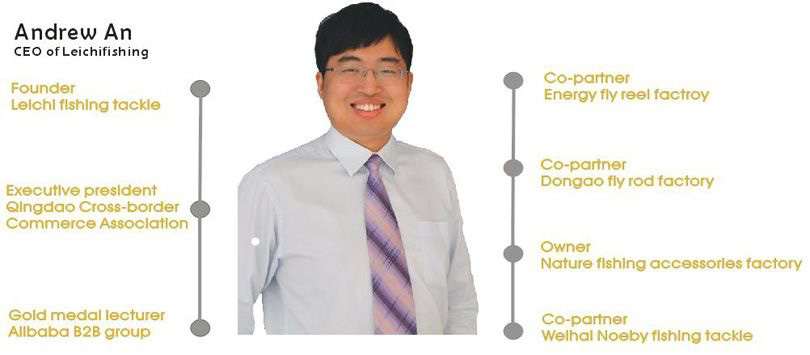 Since Day One. LeiChi fishing has always been striving to be the earnest and most responsible partner. Starting from a home based factory with only 2 employees making some hand-made fishing accessories. We have now become a global supplier to over 120 countries hiring over 40 marketing and customer service specialists and 300 well-trained workers.
Year after year, we meet with our business partners all round the world. Canada, USA, Australia, UK, Italy, Japan……Face to face, we discuss about product design and new technology, we share experience and innovative thoughts, we learn and pursue more from each other. We find this is extremely fruitful and helpful with our business growth.
We don't just make and sell fishing tackle, we also supply and spread joy and happiness. And we support Catch&Release program and also support the protecting the nature program. It has become the core values deeply rooted in LeiChi.
It has always been a great joy of mine to be able to share our customer's happiness. I vividly remember after several years hard working. One of our customers visited us and told us he is very grateful for us. Because he was out of work before, with our support, he has owned his own shop and even hired 6 full time and 3 part-time staffs now. While hearing what he is saying. I feel I can see how we have started in 2005. To seeing our customs growing from a small acorn to a large oak is the most happiness for us.
Looking forward, we realize it takes not only the most essential quality products, but also innovation and a robust understanding of consumers' needs to thrive in this challenging and volatile macro environment. And thus we urge our business partners to come with us, together we can make an integrated and synchronized supply network.
Andrew An